DISPLAY ADVERTISEMENT
We use the latest Adobe design products, therefore we can accept files created in the following applications:
ADOBE®
ACROBAT
ADOBE®
INDESIGN
Package for
Output w/ Fonts
ADOBE®
PHOTOSHOP
300dpi Resolution
or Higher
ADOBE®
ILLUSTRATOR
300dpi Resolution
or Higher
We do not accept Microsoft documents.
Please create a PDF file from any Microsoft document you wish to send.
CLASSIFIED ADVERTISEMENT
We use a custom advertising software that utilizes InDesign. Since classified ads are strictly text and can be copied and pasted in our software,
Word documents
are preferred.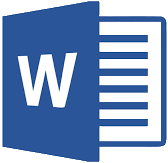 MICROSOFT®
WORD
PHOTO TIPS
For best results for your classified photos on TheGuide.com, take

SQUARE

photos or photos that look best in a square. By not taking photos that are square or that fit best in a square you will be losing a chance for your photo to appear on the homepage Featured Classified section.
Do not take extremely close up photos (unless items are small, for example jewelry, etc.). Try to balance the distance from your item so there is a small amount of extra space around the outside of your photo. This gives us the ability to crop your photos accordingly if needed.
Try to always take your photo with the sun to your back for better results.